Tuesday September 22, 2020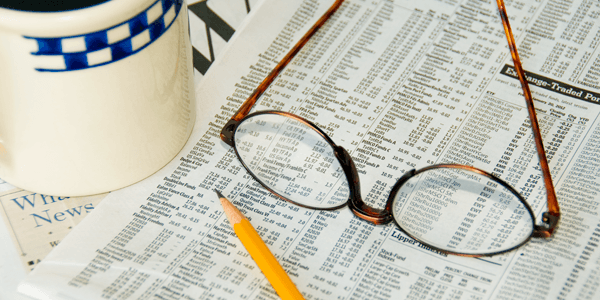 Wells Fargo Faces Rough Terrain
Wells Fargo & Company (WFC) released its third quarter earnings report on Tuesday, October 15. The San Francisco-based bank's profits dropped 23% during the quarter.

The corporation posted quarterly revenue of $22.0 billion. This is up from $21.9 billion at the same time last year.

"We continued to make progress on our top priorities during the third quarter, and we're all looking forward to Charlie Scharf's joining Wells Fargo on October 21 as the company's Chief Executive Officer and President," said Wells Fargo Interim CEO Allen Parker. "Our continued efforts to transform Wells Fargo and our unwavering commitment to serve our customers resulted during the third quarter in higher branch customer experience survey scores, growth in primary consumer checking customers, and increased loan and deposit balances."

For the first quarter, Wells Fargo reported net income of $4.61 billion. This is down from $6.01 billion reported at this time last year.

Affecting its bottom line, Wells Fargo took a $1.6 billion charge this quarter related to malpractice lawsuits, including the 2016 scandal involving bank employees opening new customer accounts unbeknownst to the customers. Additionally, investors had an eye on Wells Fargo's net interest income during the quarter. Net interest income measures the difference between revenue stemming from interest-yielding assets and expenses from interest-bearing liabilities. Net interest income was down 16 basis points this quarter from last, to $11.6 billion. Wells Fargo attributes the change to the "lower interest rate environment, as well as higher mortgage-back securities premium amortization."

Wells Fargo & Company (WFC) shares closed at $49.98, up 1.8% for the week.


JP Morgan Credits Strong Growth to Consumers

JP Morgan Chase & Co. (JPM) announced third quarter earnings on Wednesday, October 16. The financial institution, built with 1,200 predecessor firms including Bank One and Bear Stearns, reported strong earnings.

JP Morgan Chase reported quarterly revenue of $29.3 billion, up from $27.3 billion during the same quarter last year. This beat analysts' expectations of $28.47 billion.

"JPMorgan Chase delivered record revenue this quarter, demonstrating broad-based strength and the resilience of our business model despite a more challenging interest rate backdrop," said JP Morgan Chase Chairman and CEO Jamie Dimon. "In Consumer & Community Banking, we had strong deposit and client investment asset growth. Our consumer lending businesses benefited from our continued investments and a favorable environment for borrowers, which helped drive healthy volumes in Home Lending and Auto and strong loan growth in [credit] Card."

JP Morgan Chase reported net quarterly earnings of $9.08 billion. This is up from $8.38 billion reported in this quarter last year.

Stock in the company rose 4% after the earnings release. Despite increasingly low interest rates, JP Morgan Chase's net interest income rose to $14.23 billion, up 2% from last quarter. Income from consumer mortgages increased as lower interest rates enticed borrowers to refinance or take out new home loans. Revenue from Card, Merchant Services & Auto, another consumer-based rather than commercial section, was also up 9%.

JP Morgan Chase & Co. (JPM) shares closed at $120.60, up 4.1% for the week.


Netflix Earnings Report Receives Mixed Market Reviews

Netflix (NFLX) reported quarterly and full year earnings on Wednesday, October 16. The internet streaming entertainment business beat earnings expectations, but narrowly missed on revenue.

The company announced revenue of $5.24 billion for the third quarter, up from revenue of $3.99 billion in the same quarter last year. Revenue narrowly missed analysts' expectations of $5.25 billion.

"All four of us [Hulu, YouTube and Amazon Prime] have been competing heavily including with linear TV for the last 12 years," said President, CEO and Co-Founder Wilmot Reed Hastings. "It is interesting that we see both Apple and Disney launching basically in the same week after 12 years of not being in the market... But fundamentally, it's more of the same and Disney is going to be a great competitor. Apple is just beginning but they'll probably have some great shows too. But again, all of us are competing with linear TV and we're all relatively small to linear TV."

Netflix reported third quarter earnings of $665 million or $1.47 earnings per share. This is up from earnings of $403 million or $0.89 earnings per share reported during the same quarter last year.

To maintain its 158 million members and attract new subscribers, Netflix strives for "great breadth of quality content because people have very different tastes." In recent years, Netflix has begun to offer more original content in order to engage viewers and have more control over content. Original content includes the popular show Stranger Things as well as new foreign language offerings that are meant to increase Netflix's international base. Netflix factored the impact of new competition such as Disney+ and Apple TV+ into its upcoming guidance, but still expects long-term growth success.

Netflix (NFLX) shares ended at $275.30, down 3.0% for the week.

The Dow started the week at 26,766 and closed at 26,770 on 10/18. The S&P 500 started the week at 2,966 and closed at 2,986. The NASDAQ started the week at 8,044 and closed at 8,090.

Yields Rise, then Steady Following Brexit and China News
Treasury yields were up this week after the U.K. and E.U. announced an agreement on Brexit. Yields remained steady early Friday morning as China revealed its slowest growth in gross domestic product (GDP) in almost 30 years.

On Thursday, U.K. Prime Minister Boris Johnson announced that a new Brexit deal had been reached with the E.U. After almost three years of discussions and the resignations of two prime ministers, Johnson must still get a majority vote in Parliament for the agreement.

Johnson sent out a message on Twitter Thursday, stating, "We've got a great new deal that takes back control – now Parliament should get Brexit done on Saturday so we can move on to other priorities like the cost of living, the NHS, violent crime and our environment." This Saturday vote will be only the fifth time since World War II that the House of Commons will convene on a weekend. Saturday's meeting is necessary in order to reach a vote before the October 19, 2019 deadline of the Benn Act which governs the withdrawal.

On Friday, yields did not show much movement after the announcement of the Chinese GDP figures, but foreign trading markets slid lower after the release.

China's GDP grew at a rate of 6% in their third quarter, narrowly missing analysts' expectations of 6.1% growth. A preliminary trade deal between the U.S. and China was reached last Friday and includes a reprieve on some tariffs, but a long-term deal is still in the making.

"Trade tension with the US is the key factor weighing on business sentiment and investment activities, although domestic stimulus policies are providing some buffer from the down side," said JP Morgan Asset Management global market strategist Chaoping Zhu.

The 10-year Treasury note yield closed at 1.75% on 10/18, while the 30-year Treasury bond yield was 2.25%.

Mortgage Rates Rise
Freddie Mac released its latest Primary Mortgage Market Survey on Thursday, October 17. The report revealed an increase in mortgage rates.

The 30-year fixed rate mortgage rate averaged 3.69%, up 12 basis points from 3.57% last week. At this time last year, the 30-year fixed rate mortgage averaged 4.85%.

This week, the 15-year fixed rate mortgage averaged 3.15%, up from 3.05% last week. Last year at this time, the 15-year fixed rate mortgage averaged 4.26%.

"Despite this week's uptick in mortgage rates, the housing market remains on the upswing with improvement in construction and home sales," said Freddie Mac's Chief Economist Sam Khater. "While there has been a material weakness in manufacturing and consistent trade uncertainty, other economic trends like employment and homebuilder sentiment are encouraging."

Based on published national averages, the savings rate was 0.09% on 10/18. The one-year CD finished at 0.51%.
Published October 18, 2019
Previous Articles
Delta Air Lines' Revenue Keeps Climbing
Nike's Earnings Hit Record High
FedEx Earnings Fail to Deliver